All this week I've thought it was a very, very long Monday, and come to find out it's Friday! Four days snuck right on by...so sneaky.
Today is my brother's b-day. HAPPY BIRTHDAY BIG BROTHER!! *blows party horn and throws cake* Ahem. Not like I expect that he'll read my blog, but who knows. As my big brother he looks in on me from time to time.

Today no matter what I need to finish up my edits for
Under a Warlock's Spell
. I've been sidetracked all week. No more excuses!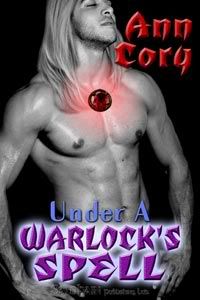 Don't forget - I'm putting together a recipe book with goodies from writers/readers/anyone who wants to participate - and fixing it up into a fun PDF. I still need more recipes, so if you have one, send it to anncory_erotica@yahoo.com and put
RECIPE
in the subject line. It can be a drink, appetizer, dessert, whatever. I will send one out to everyone and also post it in my Mind Candy section where I do recipes.
This weekend I have 2 very special chats with the
Moonglade Elite Authors
. We'll be discussing our books, joking around, giving out prizes, and answering any questions you throw at us. The weekend chat schedule is:
Saturday
-
Sensual Reads and Reviews
8pm EST. Once you click to the site you scroll down a little and it says ENTER HERE and it takes you right to the chat room.
Sunday
-
Pink Posse
7pm EST. We'll be chatting at their chat room.
Yep, that's right - no Yahoo delays to frustrate anyone, we're talking live :)
Hope you can join us for one of them - we'd sure be happy to have you!

Not sure what our weekend plans are. There's a fair going on all weekend, plus Saturday market, and of course our regular errands. I haven't heard what the weather is going to be either. We're making plans for a Christmas Vacation this year. I haven't had much time to scope out the net for some nice ideas, but hopefully next week I can do that.

Question of the day: Other than free books, what are your favorite kinds of prizes to win? Gift certificates? Gift baskets? Tote bags? An assortments of stuff? Perfume? Jewelry? Make up or bath products? Sex toys? Movies? Curious minds want to know.
Anyone doing anything extra exciting this weekend?
We've been having fun on the
Moonglade Elite Authors Blog
. Thanks for coming out and supporting us :) The book give-a-way for today is:
SINDERELLA
by Jan Springer. I finished reading this the other night and LOVED IT! I highly recommend it. Come blog with us and sign up with our newsletter to win a chance to own it yourself :)
I will also be popping into the
Cobblestone Press chat
at 8pm EST to congratulate the authors on their new releases. Fridays are always fun!

Yep, I know. I've been stalling. You caught me. I'm going back to work. And I thought the muse was relentless!!! Chow!