Summer Heat 3
is now available from Midnight Showcase in both print and ebook format, and includes my story
Balls in her Court
.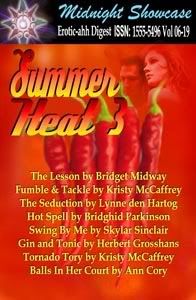 Blurb:
On the court, Misty is a fierce competitor. Off the courts, she worries about whatever everything else thinks and wants. Her routine life takes a sudden fumble when Clay Monnaco steps on the court. His laid back ways and caring nature clash with her independent ways.
When Misty spies on Clay in the locker room, the heat gets turned up. Soon tennis and love equal a perfect match.
Other authors include Bridget Midway, Kristy McCaffrey, Lynne den Hartog, Bridghid Parkinson, Skylar Sinclair, and Herbert Grosshans. So pick up a copy today!
Today is my blog day over at
Moonglade Elite Authors Blog
where I'll be posting up a hottie, excerpts, news, jokes, fun stuff, and more! Congratulations to
Foxyllady
for winning yesterday's Book of the Day -
Breaking in Levi
! For today's prize, we'll be giving away a copy of
With Love from Sam
by
Dawn Rachel Carrington
. I also wanted to thank everyone who joined us in our chats over the weekend, we had a great time and sure loved having you!
I am pleased to announce my story
Drinyian
was just accepted by
Forbidden Publications
! I'll post some more about it later in the week. ML Benton will be working on my cover, so I'm super excited :)
This weekend we went shopping for a car. The only problem is, it was bloody hot and our AC doesn't work. Once we got home I plopped myself in front of a fan and guzzled down several bottles of water. Gah! I didn't feel too good in the evening. I may like to write heated scenes, but I don't like the heat in a car on a humid day. We did find one car we liked, but we've only just begun.

Question of the day - What is your hands down all time favorite - couldn't possibly live without - movie ever?
I'm still working the chat circuit and will be at
Romance Junkies
tonight from 9pm to 10pm with a few other Samhain authors. Would love it if you stopped in!
My next new book up is
Night of the Nogitsune
from Silk's Vault, with I believe, an August 12th release date.
Blurb:
Sexy werefox Shasta, otherwise known as a Nogitsune, is about to obtain her ninth tail, a coveted prize among her species. If she succeeds, she will be the second Nogitsune in history to do so and will rule over all others. Tortured by a violent path, vengeful spirits, and an insatiable appetite for sex, she finds herself always on the run.
Believing six men from their village to be dead, a group of men ban together to find the Nogitsune and destroy her before she can harm another soul, especially Thomas, the leader, who has a score to settle with the cunning kind. Del, a kind-hearted man, is the exception to the others and sees something else in the sometimes fox, sometimes woman. He sees a woman torn apart and in need of a real man.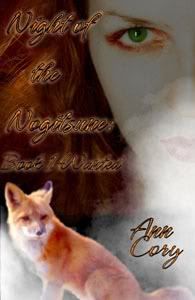 So, that movie
Talladega Nights: The Ballad of Ricky Bobby
actually looks funny. Did anyone go see it? I think we're going to try for it next weekend. I like Will Ferrell - usually. I don't know, but the trailer looked fun.
My new, super improved newsletter should be coming out later today. If you haven't signed up yet, I have a new way to subscribe: Go to my
Homepage
and you'll find the subscriber button there. It's my biggest issue yet as a thank you to all the members.
My TO DO list for today is a bit intimidating and overwhelming, so I better get a move on. If you have time, blog with me at MEA today and join me this evening at RJ :)
~Ann
Aphrodisiacs for the Mind