Just like the white winged dove
I've been listening to Edge of Seventeen ever since I woke up - I freakin love Stevie Nicks. OOO baby OOO baby OOOOOO. I'd blast it but my son is still asleep. I can't remember too many days this summer where I've seen him crawl out of his cave before 9am. Must be nice. He's got 3 1/2 weeks left and then it's back to school.
Kiss me baby one more time
Yesterday I received 5 luscious kisses from Two Lips Reviews for
Egyptian Cotton
Reviewer Frost had this to say:
I can't praise Egyptian Cotton enough! The scenes between Seth and Amber were hot and the story unique and well developed. I loved it, and I will keep it to reread. It's truly that good. I chose this particular story simply because it was written by Ann Cory, and quickly received a very pleasant and energetic surprise. This is truly an ice bucket story: it's well written, volcanically erotic, and a pleasure to peruse. I highly recommend it.
Full Review
HERE
Get wrapped up in Egyptian Cotton and feel the luxurious heat:
Egyptian Cotton
New ReleaseNight of the Nogitsune
will be released tomorrow from Silk's Vault.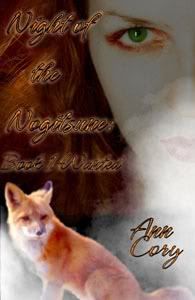 I'll be stopping in
CataNetwork-Readers
in the early morning to do a quick hi-by, and then I'm headed to the coast for the day. My dad is giving us his big entertainment center and he needs help loading it onto his truck. Plus, we haven't been over there for a few weeks. The thing is huge and won't exactly match our family room - but I really don't care. It will still look nice in our place *BG*
Sunday we'll be out all day too, might take in a movie - not sure, we just plan to be out. No sleeping in for me.
Good or Bad?
Let's see, in other news, I'm not sure it's a good thing to be a multi-tasker. One would think it's a good trait and allows you to get a lot accomplished - but I beg to differ. I think it creates an even bigger work load. I'm not saying all this to get sympathy or anything, I'm just talking out loud.
Leaves me in stitches
We watched America's Sweethearts last night. I love that movie. Since we bought it about 6 months ago, I think we've watched it 10 times. It just makes me laugh and reminds me to laugh at myself when I take things too seriously.

Gotta love him
Sweetie bought me the wrong yogurt flavor and I don't have the heart to tell him otherwise.

Tug O War
My cat and I have a race in the morning to see who will get to sit on the blanket. I am more comfortable setting a blanket on my chair. It gives it more cushion for my bum. However, my cat tends to streak in here and stretch out on it before I get it there. One minute I'm getting things set up on my desk so I'm all ready to go, and the next minute I reach over to grab it and he's there, purring up a storm with a smug(but cute) look on his face. And don't say I should just move his butt off it either. He clearly runs this household.
Equal Opportunity:
So, other writing news: I'm working on 3 different stories at the same time, which again - that multi-tasking thing - not a good thing. One story is a paranormal, the second is a shape-shifter, and the third is a vampire story. Currently they all have about the same word count, so no story is getting special attention. The muse thinks she's cute doing this, but I don't have the energy to fight about it.
Books on Sale:
Bard of Bristol
is at Fictionwise along with several other titles of mine.
Mask of the Matador
and
Private Dancer
are both an extra 15% at Whiskey Creek Press, and available in both print and ebook format.
Moonglade Elite Authors
The book-a-day Giveaway, courtesty of the
Moonglade Elite Authors
, is still going strong! One winner each day. It's great to see more and more people signing up. In about 20 days, someone is going to win the ultra cool gift basket. Come blog with Jan Springer today and you might win a vibrating rubber duck, some naughty dice, and a download of her hot book
Colter's Revenge
.
Ann's Boutique
Have you been by? In the next couple weeks I'll be adding a journal and a tote bag in the
Butterfly Kisses
section.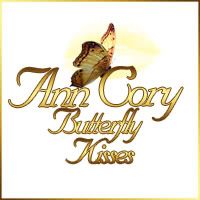 Parting is such sweet sorrow...
But I have to get some things done and the days fly by too fast as it is. I hope everyone has a fantastic weekend!
~Ann