I'm sorry I haven't been as social this week - I think I exhausted myself the last couple of weeks between promos, edits, and chats, lol. I'm trying to listen to the doctor(this is new for me) and take it a little easier on myself. Currently I'm working on the second edits of Under a Warlock's Spell, a couple stories, and going through the galley for the printed version of
Melting Iron
, which will be availalbe
October 17th!
Yay, that is my birthday month, so it's even more exciting :)
Today I'll be chatting it up about
Melting Iron
and
Under a Warlock's Spell
at the Samhain Authors chat going on at FAR today. I'll be popping in somewhere between 5 and 7pmEST if you'd like to join me.
Summer Heat 3
is now up at Fictionwise. The digest includes 7 sizzling stories along with my story
Balls in her Court
.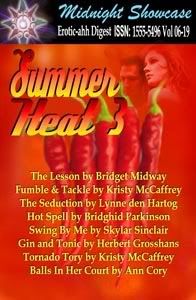 The 1st issue of our Moonglade Elite Author's newsletter is ready and will be going out. Sign up if you haven't already!

Blog
with us and become a newsletter member to be automatically entered to win books and maybe even a basket filled with hot stuff!
There are all sorts of goodies coming from MEA, so be sure to visit
our site
. Today's book-a-day giveaway book is my book
Arcadia
.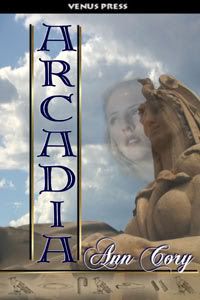 I'm jamming out to Pat Benatar's
Invincible
. I remember when I first heard this song I really got into it. It was at the time I was watching
Legend of Billie Jean
with Helen Slater and Christian Slater. I actually liked that movie, even though it's pretty cheesy to watch now. Anyhow, the song gets my adrenaline going.
I'm looking forward to the weekend when we take the new car for a longer spin. We're going to the zoo and meeting up with my brother. They've just reopened the birds of prey section and are doing a grand opening of the new cougars and ocelot exhibits. We went in early June and these exhibits were underwraps, so I can't wait!
Question of the day:
What is your favorite fragrance/smell that you could spray all over yourself and be happy all day?
Contest reminder: Today is the last day to enter my Butterfly Kisses contest. For details, click
HERE
. One winner will receive a $10 gift certificate to use at
Cobblestone Press
and the second winner will receive a bag of chocolate kisses and a beautiful butterfly book thong. Good luck!
Back to edits I go. Everyone have a fab day! *tossin confetti*