Hi out there! I'm the one waving frantically with big bags...under my eyes. I'm sleepy!

This morning I'll be taking my son to his school where he'll get his school schedule and locker assigned, while I get the fun job of filling out forms :) Lucky me! School doesn't start until September 5th, but today is for all the 8th graders *gasp* to come in and get special instructions.
My fingers are crossed he gets the guitar class he wants. It's a year long class where the kids are taught all about the guitar, its history, how to play different types, read music, and more. While he took 4 weeks of lessons over the summer, this goes much more in depth. I think he'll have a blast, so I sure hope he got it!

Check out the photo of the
Moonglade Elite Authors
Grand Prize Gift Basket! Each prize is gift wrapped all pretty, and there are even some additional goodies thrown in. I can't tell you how lucky the winner will be! Make sure you sign up for our newsletter and blog with us to be eligible to win!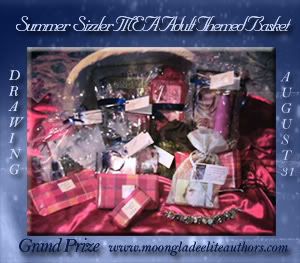 I've been having a fantastic time blogging with everyone on Mondays at the
Moonglade Elite Authors Blog
and I wanted to thank everyone who has come out to support us! Today's Book Giveaway is -
Peppermint Creek Inn
by Jan Springer. It's a HOT read. Speaking of hot.....
Question of the Day
- What is the sexiest food you'd want someone to feed you? For added inspiration, here's a photo of that someone who can't wait to feed you: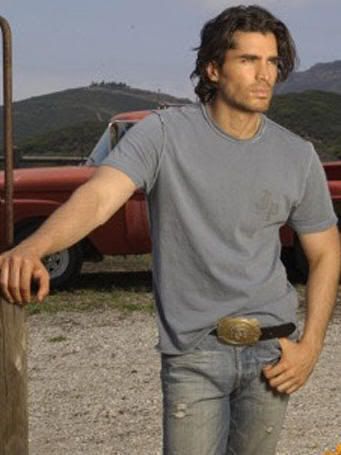 In less than a week,
Under a Warlock's Spell
will be out! My fantasty erotic romance will be available August 29th from Samhain Publishing.
Blurb -
ISBN: 1-59998-091-6
Length: Category
Price: $4.50
Genre: Romance/Fantasy
Minna enjoys her life in the village, working hard and filling her nights with the passionate embrace of her soulmate, Derik. She has more then she ever imagined, until her world collapses. In her time of need, she is unaware that the one's closest to her covet her most.
Derik, a master craftsman, loves his work and his beautiful Minna. His days are filled with thoughts of the woman he loves, laying beside him, until the day he is captured and cursed. With a warlock manipulating his moves, he fights to hold onto his one desire.
An evil warlock has desires of his own. Blagden will kill anyone that gets in his way, regardless the price. His lust for power and greed makes him unstoppable. With his potent amulet he controls the minds of others, beginning with Derik, by turning him into a bloodthirsty monster. It is only the start of the twisted plot Blagden has weaved. As his attention turns to Minna, there are no holds barred. He knows she will be his.
Minna is given the power of shape shifting to aid in her search for Derik. Against all odds Minna must risk it all and bring Derik back to where their passion runs wild.
Can love survive in the darkest of times, when it is miles away and held hostage by a sinister force of evil?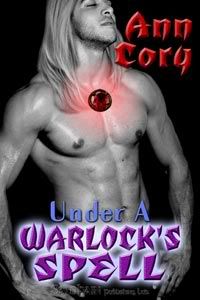 I'm also pleased to announce that my historical erotic romance novel
Melting Iron
will be going to print on October 17th! *tossing confetti* I love October. It's my birthday month and I'm a total Halloween freak! We'll also be celebrating our 1 year moving in anniversary :) So yeah, to have my book in print in the same month will be an added bonus!
Speaking of Samhain - right now they're having some great stuff going on, including sales - so now's even a better time to grab a copy of Melting Iron! Details:
Lots of give-aways this week to celebrate our coming back online better than before!
All Ebooks are 10% off through Monday, August 28 to celebrate being back online and better than ever.
All Trade PRINT books are ON SALE too! 10% off cover price plus FREE Shipping!
Daily prizes plus, a Grand Prize to be awarded on Samhain, November 1st!
From now until September 30, 2006, every purchase** will count toward a drawing for an ebook reader!
The winner may choose between an eBookwise, a Palm Tungsten E2, or an HP IPAQ rx1950!
*heads up*
There will be some changes at my Ann Cory Crew group. If you're a member already, I promise it will be painless. I'll be adding some mods to help host Reader Appreciation Days, Genre Weeks, Author Showcases, Interviews, and more. Thanks to Mia Romano, Karen Erickson, and Madison Chase we'll kick it up a notch and have some fun! First we'll have to come up with a new name. If you'd like to sign up for an Author Showcase day where it's all about YOU - send me an email to anncory_erotica@yahoo.com and we'll get you hooked up. I'll post the link here soon, or if you'd like to sign up now, click
Here
and the new changes will happen September 1st.

Okay lovelies, I better go start my day. I hope yours is fantastic!