I'm happy to report that I did get to relax a little this weekend. I could use more of that, but the next few weekends are packed with things to do, so we're looking at maybe October. The beach was lovely, as always.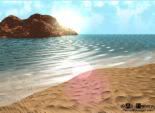 We also picked up my mother's hutch. It looks very beautiful in our dining room - it was something she wanted me to have. I'm between emotions on it. I cry, I smile, and I remember special times when I look at it. I miss her very much.
I'm cranking up a little Bonnie Tyler right now.
Holding Out for a Hero
and
Total Eclipse of the Heart
were HOT songs while I was growing up, and I LOVED them!

I totally rocked out to those songs and sang them with my friends in the car at the top of my lungs. They often fit my mood when I broke up with or got hooked up with a guy. Yeah, I still love those old songs and get fired up when I hear them.
It's Monday and you know what that means -
BLOGGING WITH ME
at
Moonglade Elite Authors Blog
Yep, that's right. Pic of a hottie - or two, excerpts, reviews, jokes, a giveaway of
Under a Warlock's Spell
coming August 29th from Samhain Publishing, and more! I hope you'll join me :) Also, the book of the day is
Flex Appeal: Mystical Sign Series
from Venus Press. Blog and sign up for the newsletter to be eligible!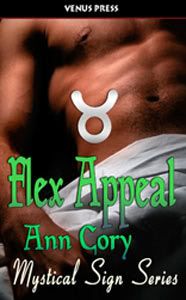 I will also be giving away a copy of
Butterfly Kisses
on Wednesday - the final day of our book giveaway.
We're coming down to the wire of our month-long grand opening of
Moonglade Elite Authors
where one lucky person will win the ULTIMATE gift basket. There is still time to join the newsletter and blog with us to get a chance! It's hard to turn down such an elaborate gift! I can't wait to find out who I have to bribe...ahem...I mean - who I get to congratulate! lol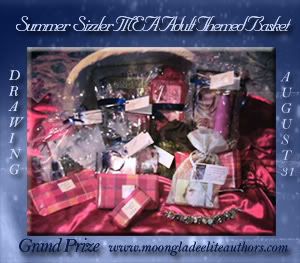 So what else is new? Well - as I've been mentioning - my social Ann Cory Crew group is getting a major makeover. We're counting down the 4 days before our name change. Things to expect in the new groups include:
**New Name - announced soon.
**5 Moderators - Myself, Madison Chase, Mia Romano, Karen Erickson,
and Emma Petersen
**We will be doing Author Showcase Days - Come sign up with us for a
full day that is all about Y-O-U! If you're interested, please sign
up in the Database. Please note: ALL genres are welcome, it is not
only for erotic romance!
**We will be doing Author and Character Interviews - if you'd like to
be interviewed please sign up in the Database. Please note: ALL
genres are welcome, it is not only for erotic romance
**We will be doing Blog Reviews - if you're interested in having your
blog reviewed - please sign up in the Database
**Hosting Genre Days, Reader Appreciation Days, Publisher
Appreciation Days, and other events
**Post your new releases and upcoming releases in the Database
**Post your covers in the Photo Section
**Add your Links to the Links Page
And this is just the beginning. On Monday, Karen Erickson, one of our
new moderators, will be giving you an introduction :) Please join me
in welcoming our new moderators!
For those who asked, yes my son DID get his guitar class - so both he and I are very excited. I'm happy he'll be adding some music to his day, and he's happy to look forward to at least one class at school, lol. This is his last full week to be lazy and sleep in, so he's not exactly a happy camper.
My
new contest
is up at my site - and your chance to win your very own
Romance In A Box
Details can be found
Here
I'm tossing confetti everywhere over my very first review of
Melting Iron
.
Euro Reviews gave it 4.5 Flags
Ann Cory gives us an astonishingly heartwarming story of love found in the face of a terrifying historical event. Daniel and Evelynn, as well as her maid Bess, are appealing characters, and Brandt, although abusive and mean, is also written as a three-dimensional character, not just a stereotype. I recommend this one.
Reviewed by Annie
Read full review
Here
Under a Warlock's Spell
comes out Tuesday, August 29th and I'm super psyched. I will also be posting excerpts at Novelspotters for Samhain Author's Day. I'll be there around 5pm EST if you'd like to join me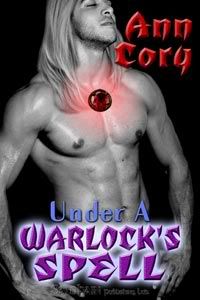 Other new reviews include:
Egyptian Cotton - 4 Angels from FAR
Egyptian Cotton is a fabulous story that will have most readers asking where they can get a set of those sheets. Amber and Seth have some heated scenes that could light a fire without any matches. Ms. Cory pens such a fascinating blend of wonderful characters that it is worth reading more than once, with imagery that makes the reader get a feel of all the visualizations of Egypt. The steam practically rises from the pages as Seth sets out to show Amber what a lifetime with him could mean for her always in his bed and his arms.
Reviewer - Linda L
Read full review
Here
Vampire Hunter: Book 1 - Vintages - 4 Angels from FAR
Regan and Garret are as different as two people can be yet that does not stop either of them trying to save the other, or giving their hearts. Miss Cory has a bright future ahead of her with this series, for which I am sure will be as satisfyingly suspenseful and erotic as Vintages is. I definitely will be eagerly awaiting the second installment in this awesome series.
Reviewer - Debbie
Read full review
Here
QUESTION OF THE DAY:
If you had your pick of a hot guy to jump out of your birthday cake and give you a sexy dance, who would you want? Inquiring minds want to know!!
Okay, crunch week ahead, so off I go. Come blog with me!