This week I am burning up the chat circuit! I can only hope that someday in the distant future I am doing the same thing, only not online ;) lol.
I managed to fit in 2 chats yesterday and 2 chats the day before. What is in store for today? Edits for
Under a Warlock's Spell
, a newsletter story to polish, a WIP I'm halfway done with, some updates, and a chat at
KarenDevinKaren
group with Mardi Gras to talk about my book
Egyptian Cotton
. I'll be there at 5:00pmEST with some hot excerpts.
Don't forget we have daily prizes at the
Moonglade Elite Author's site
, all you have to do to be eligible to win a book is blog and sign up for our newsletter! The book up for a prize today is the book
Tranformations
with Liddy Midnight's story
"Survivor"
in it. This book is seriously hot, and I love the cover! Come say hi and you might just win!
I just have to mention that my
Secret Summer Sister
is a total blast. She writes these funny poems and sends me ecards. I love it :) I never know what I'm going to get when I open my email, lol.

So tell me, in your own words, what length of books do you prefer to read? Novels, novellas, novelletes, short stories, quickies - I want to know! Some writers can pen a novel in no time flat. They have the gift of creating full blown stories with multiple plot points and an assortment of characters. Yes, I admit it, I'm jealous. My preferred length to write is novella-length, and I like short stories. I've written only a few novels and I'll tell you, it's like pulling teeth. The novels I have written, I'm especially proud of. They are mini milestones that show my growth. I just wondered what you liked best.
I'm happy to report the humidity has left and the weather has cooled just enough to leave my allergies alone. I hate taking allergy pills, but this summer I've had to double up. I don't even want to mention how much I've spent on tissues in the last two months. Money that would be better spent on books!
I guess I have to change the calendar tomorrow. I'm kind of interested to see what the new butterfly is on my calendar. My brother's birthday is on the 4th so I have to track down an especially cool card. He's 13 years older than me, so I'm going to have to rub that in, lol.
Also, my two releases
Mask of the Matador
and
Private Dancer
from
Whiskey Creek Press Torrid
are 15% off this month! If you haven't read them, now is a good time to snag them on sale! They are in both print and ebook format.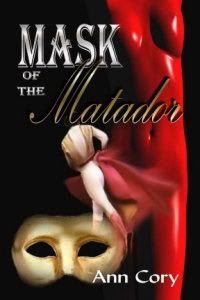 Okay, I should probably get back to work here. Go win a book and come chat with me!
~Ann