I had an action-packed weekend and I think I need a week to recover from it, lol.
We spent Saturday at the coast - along with the rest of the world, and managed to get in a little beach time. The weather was gorgeous and the waves of the ocean were calming.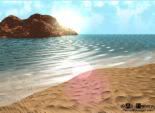 We had lunch at my dad's and bopped around town. We helped load the entertainment center he was giving us onto his truck and then he followed us to our place. It looks fantastic in our family room. We did pizza for dinner - very late - and I must have crawled into and passed out. I was exhausted.

Sunday my son had a Pokemon tournament, so we drove him there and then sweetie and I went off and did our own thing. We watched Lady in the Water, which I enjoyed. I can see where some people may not have liked it, but it fit my mood yesterday and I thought it was well done, aside from some silly stuff in there.

We also bought a new car! It's a 2006 Chevy Malibu in deep blue and oh baby I'm excited! *BG*
Today I'll be bloggin at
Moonglade Elite Authors Blog
so come on over, I'll be giving away a copy of Night of the Nogitsune:Book 1 - Wanted. Also, if you have signed up for our newsletter and blog with us, you're eligible for today's Book-a-day-Giveaway - which is my book
Melting Iron
. And if that isn't enough, by being part of our newsletter and by blogging with us, you are automatically entered in for the hottest gift basket loaded with goodies. Hope to see you there!
My newest shifter,
Night of the Nogitsune
, is now available from Silk's Vault, and is the first in a trilogy.
Night of the Nogitsune:Book 1 - Wanted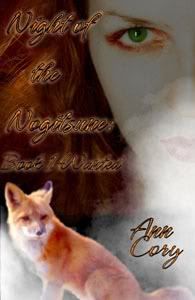 So, today I'm busy with promo, edits, writing, and updates.
Question of the day: If you were stranded on a beach but could have 1 fabulous meal magically appear - what would it be?
I hope everyone had a great weekend! Pop on over to MEA today and chat with me if you get a chance :) Off to report to the muse!