Hi to everyone, hope you had a wonderful and relaxing Turkey Day. The family was home all 4 days and that meant no work got done *sigh* so this week I'm scrambling around like a turkey with its head cut off, trying to get caught up.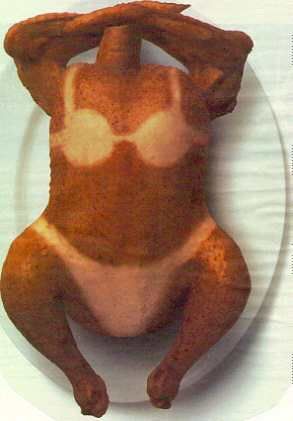 What have you guys been up to?
I saw the movie
Stranger Than Fiction
and really enjoyed it. I like Will Ferrell, and thought he was fantastic in his role.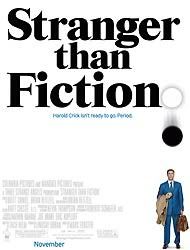 My newest release,
Blame the Rain
is available now from Samhain Publishing!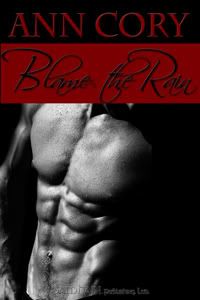 Genre: Contemporary Romance, Red Hots!
ISBN: 1-59998-172-6
Price: $2.50
Length: Short Story
Publication Date: November 28th, 2006
Cover art by Vanessa Hawthorne
Blurb:
Love—as unpredictable as the weather
When Sable Morrison drives into the back end of handsome Maxwell Benning's new car, she is certain things will only get worse. Little has gone right in her life lately, and the last thing she needs is a new distraction.
Well-to-do Maxwell finds himself enamored over the beautiful stranger and treats her to an evening where inhibitions are left behind. He strongly believes fate had a hand in their accidental meeting, and does everything he can to make the night last.
While Sable is busy placing blame on herself for the evening's events, Maxwell prefers to blame the rain.
For an excerpt, read
Here
as well as
Here
Also, I'm so totally stoked to announce that I've just received my print copies of
Melting Iron!
I can officially lick the hot cover model's abs :) The book can be purchased at
MBAM
,
Amazon.com
,
Barnes & Nobel
, and even
Walmart!!

We got our first snow of the year 2 days ago and thankfully almost all traces of it are gone. I'm not a snow girl. I repeat NOT A SNOW GIRL. I know my Canadian hubby is used to it, but I'm not. My hope is that it doesn't return. I'm very comfortable having a green Christmas.
Question of the week:
What special gift would you ask for from our hunky Santa below? A)a sexy toy B) Sexy lingerie C) Satin sheets D) a week's worth of breakfasts/lunches/and dinners in bed E) A trip to anywhere as long as he's naked F) Other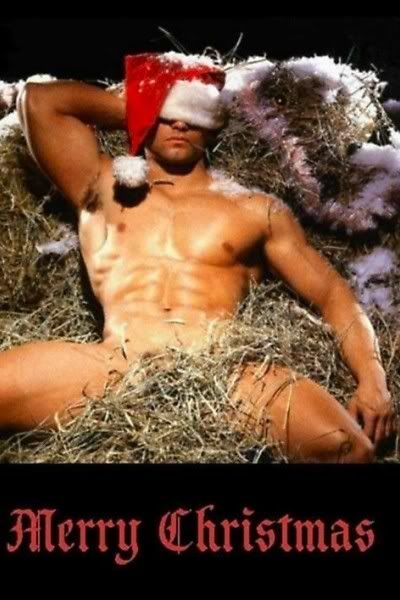 Edit Confessional:
I've been in the land of edits as of late - and still have more to do *gulp*. I have issues with edits and have to admit they aren't my favorite thing. I know they are a ncecessary evil, but usually when I'm through with a story - that's it. Unless I'm writing the sequel or a trilogy, I don't like getting back into the headspace of my characters. It's terrible, I probably shouldn't admit it - but it's very true.
I'm also polishing up my story
Sex Marks the Spot
which will be part of the
A Pirate's Treasure Anthology
coming in January from
Mardi Gras Publishing
, first as an ebook, then in print. The authors in the anthology include:
Cara North, Theresa Wayne, Jaden Sinclair, and of course - me :) If you'd like to see the mini trailer, click
Here
or if you aren't a fan of MySpace, you can also click
Here
December
is shaping up to be a busy month at
The Story Board
including the big December 13th reader's appreciation bash:
Stuff Your eStocking Day!!!
Authors who wish to take part, please contact me at anncory_erotica@yahoo.com for all the details. Readers - come ready to win some prizes and find out what hot books to buy for the holidays!!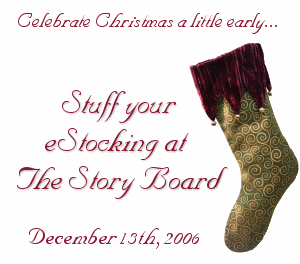 Okay, back to the land of the edits. Too bad there aren't any cuties around to distract me *sigh*