Happy Monday everyone - and Happy Labor Day to those who celebrate it where you live! My son isn't excited at all - tomorrow he goes back to school.
Today I'll be at the
Moonglade Elite Authors Blog
posting some fun stuff, a couple hottie pics, excerpts, and more! I can't wait to find out who the winner of our grand opening gift basket it - we should know soon!
Our newest exciting venture at
Moonglade Elite Authors
is our beautiful candle: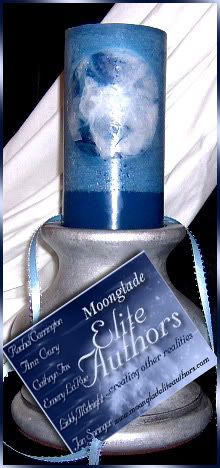 I LOVE the colors - soft blues. We're working on a fragrance that will be added to it :)
Vampire Hunter: Book 1 - Vintages is up for Book of the Month. Dyana Lunaris is the artist and she captured the ambience of the story in these wine glasses. If you have a moment to vote, click
Here
Speaking of voting, I am also up for Author of the Month at
Fallen Angel Reviews
along with several other great authors from Mardi Gras Publishing. If you could take a moment to vote for the author you think best represents the contest, I'd sure appreciate it!
Who can resist a sale on
Egyptian Cotton?
. Right now it's on sale at Fictionwise for 15% off. Get wrapped up in
Egyptian Cotton
and feel the luxurious heat.
Question of the Day
There are some actors who I feel have very sexy, distinct voices and I could listen to them all day. Some of my favorites include Jeremy Irons, Christopher Walken, Hugh Jackman, Antonio Banderas, Pierce Bronsnan, Johnny Depp, Morgan Freeman, Tim Curry, Christopher Lee, and Ian McKellan. Who could you listen to all night?

Newsletter running late, but will be out soon. I'm behind on everything right now thanks to a story that refused to let me be.
In the news, I was sad to learn of the passing of Steve Irwin. Best known as the Crocodile Hunter I enjoyed his enthusiasm and appreciated his love of animals. He leaves behind a son, a daughter, and his wife Teri who was also born in Oregon - same as me. Whatever opinion you may have of him, you gotta give the guy credit for all that he's done for animals, and his enthusiasm was contagious. After watching him tackle so many other dangerous creatures, I started to think he was invincible. He will be greatly missed.