I'm so sorry I've been away - it's been one thing after another. I went to the dentist on Monday and spent all day yesterday still in pain and with migraines. Needless to say, I got very little done. I have terribly sensitive teeth, so any work done on them and I'm in bad shape for several days. Unfortunately, I have to go back on the 28th and have them finish up - grumbles. I did manage to clean and dust my desk, so it looks nice and the muse prefers an uncluttered work area.
Let's see - what's been going on around here. Oh!
Egyptian Cotton
is sitting at #11 on the Fictionwise Erotic Bestseller List, so that is nice news :) I also received 4 Hearts from Love Romances and More. You can read this review and other reviewers thoughts at my website
here
. This is one of my favorite stories, so I'm happy it's been doing well.
My
September Newsletter
is now live. This month you'll find:
§ Appearances
§ New Releases
§ Coming Soon
§ Book Reviews
§ Contests
§ Reader Interaction
§ Sneak Peek
§ Amorous Authors
§ Moonglade Elite Authors
§ Recommended Reading
§ Moonglade Elite Authors Newsletter Network
There's a place to sign up right here on my blog beneath the ARCHIVES section.
Once your subscription is confirmed, there will be an Archive link to any missed newsletters. I would be honored to have you!
Also I have a new
contest
up where you can win
Romance in a Box
! Who doesn't like a little seduction in their life? To be eligible for your own Romance in a Box, sign up for my newsletter. To double your chances of winning, send an email with "ROMANCE" in the subject line to anncory_erotica@yahoo.com. The contest ends September 30th.
Details about Romance in a Box:
*4 oz. of Strawberry flavored edible massage oil
*1 oz. of honey powder
*2 Feather Ticklers
*4 oz. of Scented Foaming Bath Salts
All packaged in a classy gift box courtesy of myself and
Nature's Treasures Online
.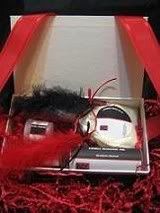 For more details, click
Here
.
This week I'll be making a couple appearances with the lovely authors of
Cobblestone Press
. First off, on the 14th you can catch me from 6pm to 7pmEST at
CataNetwork Readers Group
, and then on the 15th I'll be talking it up at the
Cobblestone Press Loop
from 2-3pm EST. I'll be yapping it up about Butterfly Kisses and Breaking in Levi.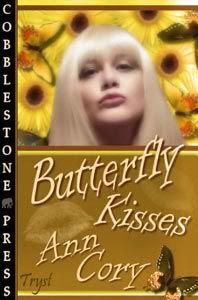 Speaking of
Butterfly Kisses
, I received a new review from Romance Junkies - 4 Ribbons :) Here's part of what the reviewer, Deborah, had to say:
BUTTERFLY KISSES is an inspirational tale of love and acceptance that is gentle, yet passionate. Charlene and Bryan's relationship is described intimately allowing the reader to understand the true significance of butterfly kisses. I felt this was a very moving story with believable characters and offered thought provoking moments and sexy little interludes.
You can read the full review
Here
.
It's been quiet around the house since my son's started back at school - I still have moments where I come out of the writing room and am sort of startled to not see him sitting in the chair playing PS2, or laying on the floor of his room surrounded by Pokemon cards. It's a little lonely.
What's up with movies? I look at what there is playing at the theater and I don't see much of anything. The Black Dahlia doesn't look too bad in the trailers, but I don't know. I've been disappointed all summer by what I have to choose from. My favorites of the past 4 months are
Cars, Pirates 2
, and
Lady in the Water
. I did see Talladega Nights, but I can't claim it to be a favorite - it had moments, but otherwise I was more embarrassed to have my son sitting next to me. I haven't even found many movies worth renting. Am I missing something good?

Question of the Day: In my book
Under a Warlock's Spell
, the heroine shape-shifts into a bird to get to her loved one who has been captured by an evil warlock. If you were given the ability to shapeshift into a bird, what would you pick?
My answer: an owl

Okay lovelies, thanks for stopping by, I need to get my son off to school. Have a great day!