Did you blink? If so - you missed February. *sigh* Combine a short month, being sick, and stories that refuse to end, and I tell ya - it's a recipe for disaster. I've not been well, so I apologize for my lack of an update. I'm feeling better, but still a bit rundown. Against my begging, March is here - and I'm trying to update everything and work on my newsletter. I really want my 3 days back, lol
So what is new? Well - my
March Contest
is now underway - and if you like some booty, specifically Pirate's Booty - than this will be right up your alley. Here are the details:
Who doesn't love pirates? Who doesn't love treasures galore?
Simply sign up for my newsletter
http://www.anncory.com/contest.htm
and you're entered. To double your chances of winning, send an email with
"I Want Booty"
in the subject line to
anncory_erotica@yahoo.com
. The contest ends March 31st. Winner will be announced in my April newsletter.
The Pirate's Booty includes:
*A small treasure chest of bath products
*Beautifully handmade jewelry
*A signed print copy of A Pirate's Treasure Anthology
*A couple beautifully handcrafted book thongs
*Scrumptious candy
*and some extra goodies you are sure to enjoy
Good Luck finding the treasure - Arrgh!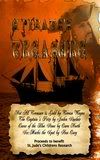 So what all have I been up to? Well - I have submissions with 5 different places, been trying to get well, catching up on some reading (read
Blood Secrets
by Vivi Anna), writing, and watching movies with the family. I've found that when I'm sick - I laugh at pretty much anything. Good medicine. My motto for March is -
lighten up
- and we'll see how far I get with it, lol.
I have
2 winners
to announce as well - so let me shake up my little name jar.
EdgesAngel22
and
Christy Jan - CONGRATULATIONS LADIES!!!
Please send an email to anncory_erotica at yahoo.com with FEB BLOG WIN in the subject line and your snail mail addies. WOOT WOOT!!!
I found out my release date for
Next Floor Naughty
, my BDSM novella (and first release) with Ellora's Cave is
April 18th
!!! I'm totally psyched :) WOOT WOOT *tossing confetti* You know I can't wait. I'm going to freak when it gets on the Coming Soon Page, LOL.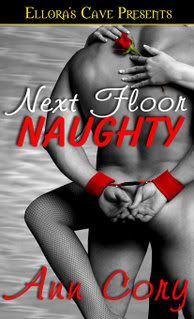 I also wanted to thank everyone who voted for me on the P&E Polls. My contemporary short
Blame the Rain
came in at
#8,
and I came in at
#5
for the
Poet
category. I truly appreciate the support :)
Tomorrow, hubby and I are going to spend the day together, and have a date day. I think we're going to do some wine touring, now that my sniffer is back up and working. We'll probably also go out to lunch, and maybe catch a movie. I want to see:
Ghostrider, Music and Lyrics
, and
Number 23
. Anyone seen these? Worth watching? I'm a Drew Barrymore fan, so I know I'll enjoy
Music and Lyrics.
I absolutely love this picture. What do you think about it? What do you imagine he is thinking about? I know - it's hard to think right now, isn't it, LOL
New March Blog Contest
Here's the 411:
2 winners.
2 prizes each
prizes include: book thong and a copy of
Butterfly Kisses
or
Drinyian - your choice
The first contest runs until the
15th
, and the second contest runs until the
31st
. Just post on my blog, and you're eligible. Simple as that :) And I'm coming down hard on myself - I WILL faithfully post this month!! Actually, I would have last month, but I didn't spend too much time online since my head was all gunked up. *tossing confetti*
5 Lips for Secrets in the Annex!!
from TwoLips Reviews
"Ms. Cory weaves elements of the paranormal and of historical social issues into the mix, tantalizing readers with glimpses beyond consensus reality."
~ Reviewer Frost
Read full review here:
http://www.twolipsreviews.com/content/index.php?option=com_content&task=view&id=1010&Itemid=36
Okay, so I'm off to finish up all my updates, and get working on my newsletter. I have several submissions out right now, just waiting to hear back, so please cross your fingers, send good vibes, and toss confetti my way - all that positive energy really helps :)
~Ann