Waving hello from behind a big time mess of paperwork and "due now" notices - sigh. My attempt to update my blog more didn't quite happen, so I've slapped my wrists and pledge, promise, vow, plan on to do better this month.
Let's see - what have I been up to? Mainly work, a little play, some walks outside while the sun has been out, but mostly work. The muse has gotten bit by the creative bug and become very bossy.
Anyone seen any good movies lately? I haven't seen much that interests me advertised out there, so if I'm missing something - please let me know! We typically rent movies, unless something looks REALLY REALLY good.
New Contest Announcement for February - you'll want in on this :)
Ann Cory's From Desk to Dawn February Contest
During the day you cater to the needs of others, whether you work inside or outside of the home, but at night you could use a little time to escape. Enter to win some goodies that will spice up your desk and spice up your nights.
Simply sign up for my newsletter
http://www.anncory.com/contest.htm
and you're entered. To double your chances of winning, send an email with
"Desk to Dawn"
in the subject line to anncory_erotica at yahoo.com. The contest ends
February 28th
. Winner will be announced in my March newsletter.
Desk to Dawn Goodies include:
*An
Ellora's Cave 2007
Calendar
*A sensual red/black desk set
*a handcrafted book thong
*a signed print copy of
Melting Iron

*a mug
*a picture frame
*and some extra goodies that I promise you'll enjoy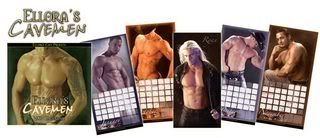 My newsletter will be out later next week with a couple new things in appreciation of you wonderful members :)
I'm looking forward to my first release from Liquid Silver Books:
Secrets in the Annex
, my paranormal novella, is due out
February 5th
. Here's the cover, blurb, and link to an excerpt!
Blurb –
Can the luck and love of a chimney sweep, be enough to rescue a woman, trapped in an annex that holds many dark secrets?
Kaelyn is a former maid who used to clean the annex for the Ruthferd's. Ever since a terrifying fire broke out in the annex, she has been trapped within the chimney, desperate to get out. She waits for a man to rescue her in more ways than one, and breathe new life into her somber soul.
Rand enjoys his job as a chimney sweep and especially likes to work for the Ruthferd's, a rich and prominent family in central London. He is asked to clean the fireplace and chimney inside the newly remodeled annex, though what he finds inside is more than ash and soot. A smoldering woman emerges from inside the fiery tomb and fuels him with passion.
Through his gentle touch, and her seductive moves, they are swept away in the heat of the moment, and forge a bond that goes beyond a lifetime.
Read an excerpt here
:
http://www.anncory.com/annex.htm
~~
What have you guys been up to? Doing anything exciting? I've been doing a little early spring cleaning - I get that way right after it starts to warm up, a need to slough away junk and have things neat and tidy. The feeling doesn't last very long though, lol. My desk has actually stayed clean for a week now, I believe that is a record.
Hmmm, so I can hear your thoughts, and you're wondering when I'm going to announce the winner from last week's blog. Go ahead, admit it :) Since you're twisting my arm, I'll do that now. I put your names in my M&M dish - that isn't for M&M's anymore - it's for yogurt covered raisins, which in my mind is healthier, though not really any less in calories. Hey - babysteps, ya know? LOL. Since my son is home from school today and tomorrow due to report cards coming out on Monday - I'll get him to pick a name.
Blog Winner for the 2nd half of January is:
PRINCIPESSA!!!
Please email me at anncory_erotica at yahoo.com with BLOG WIN in the subject line, which book you'd like(
Drinyian
or
Blame the Rain
), and be sure to send your snail mail addy so I can send you a book thong.
New February Blog Contest
- as I've done in the past it will be broken up into 2 contests. The first starts today and runs until the 14th. The second starts the 15th and runs until the 28th. You know, it's bad enough the months just race by, but then you add a very short month into the equation and I really have no hope of ever catching up *shakes head*.
So here's the skinny on the contest. Post on my blog and you're automatically entered, it's that easy! What can you win? For February I'm giving away an ebook copy of A Pirate's Treasure Anthology or Best of Torrid Teasers Vol. 1, and a book thong. I happen to adore book thongs and can't have too many - I don't know about you. So post away! First winner will be announced on the 15th, the second winner will be announced March 1st
Have you seen my sexy Ellora's Cave cover for
Next Floor Naughty
? If not - here ya go. I'm a proud mama :)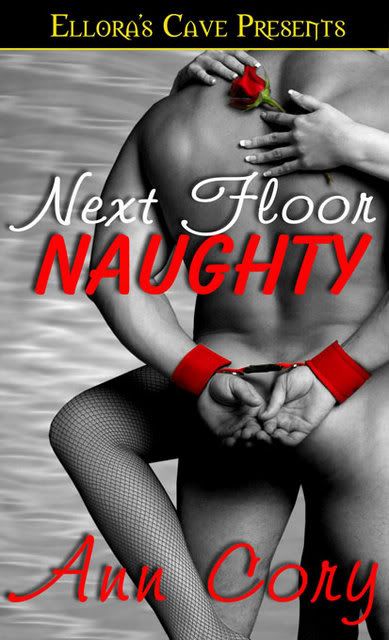 Hot tushy or what??!! I love the way the red stands out *BG* For the
blurb and excerpt, please click here
:
http://www.anncory.com/eCave.htm
QUESTION OF THE WEEK:
The hunk below is looking out the window - describe to me what he is looking at (ie. You, showering naked outside) and the most creative answer will get a little present from me :)
Oh - you want to see the hunk - naughty naugty! Here he is: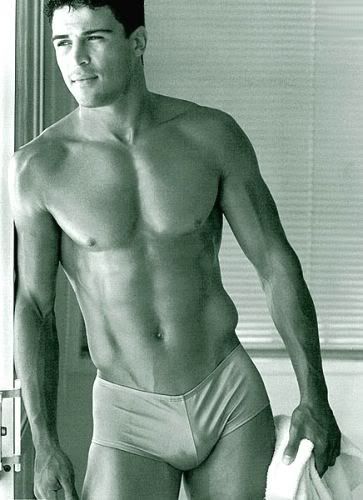 Well, it's getting close to lunchtime here, so I better get some more work done. Be sure to sign up for my contest - who doesn't want an Ellora's Cave calendar? Look for my newsletter to be out later next week with a couple new things - and I'll be posting I SWEAR on Tuesday again!
Have a great rest of your week!